List: Top 10 Most Pup-ular Dog Names
Posted by BETHANY MILLION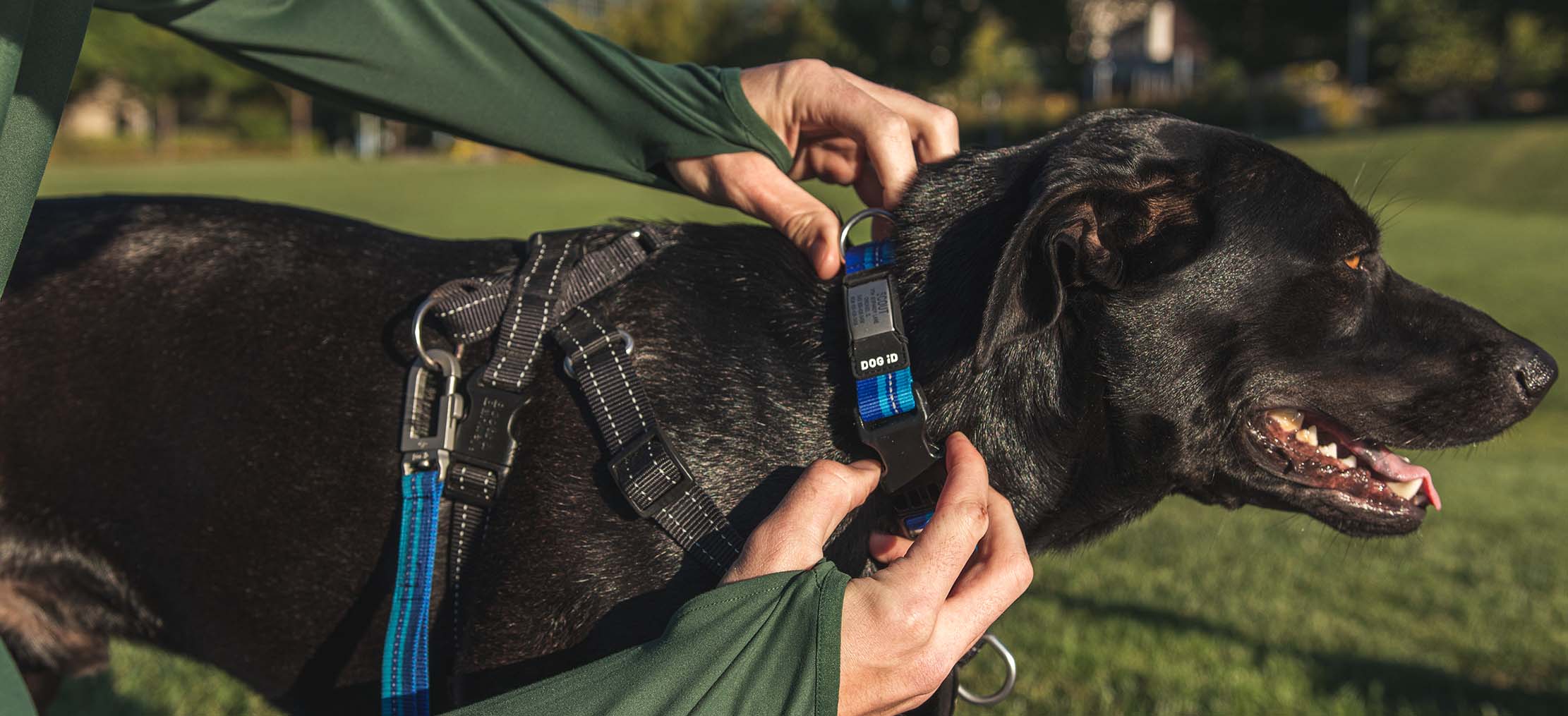 Choosing your dog's name can be hard. Do you go the traditional route, favorite movie/TV reference, or a name that just makes you smile when you see it? You get one chance to name your pup, so you should make it count! Your dog's name is so important, that we have a Lifetime Guarantee on our Dog ID engravings to ensure it is on display forever (this especially comes in handy if your dog is a rough and tumble escape artist). If you're looking for that perfect name, we've got the top 10 boy and girl names according to Rover.com for your new family member. If you stick around to the end, we've thrown in some of our personal favorites! 
Top 10 Boy Names
10. Leo 
If you are a firm believer that Jack Dawson would have fit on the door, or just someone who checks their horoscope every day…I see you. The name Leo stems from the latin word for lion and is synonymous with being brave. Whether your dog is the king of the jungle, or he just thinks he is, Leo is a solid choice. 
9. Duke 
Coming from a Kentucky business, hopefully if you choose this name it's for its powerful meaning of being a leader and not because of a certain basketball team. Either way, Duke is the true name of the leader who calls the shots - whether that's of his pack or the household.
8. Teddy
Despite how adorable this name is, Teddy actually means 'wealthy protector'. Wealthy in what? Treats? Toys? Cuddles? You can decide. Whether you're manifesting a rich life for your dog, or they're just a big ol' teddy bear, Teddy may be the way to go!
7. Bear
Speaking of teddy bears! If your dog runs the risk of alarming the neighbors by making them think you have a bear on a leash, you've got your name right here. Bonus points if you get a Newfoundland, they fulfill the desire to hug a bear without the whole 'danger' thing. If you read that and thought "who has the desire to hug a bear?" please refer to  this video.
6. Rocky 
The theater nerd in me immediately thought of Rocky Horror Picture Show. The realistic side of me realizes this is probably like Rocky Balboa or Rocky the flying squirrel. Rocky actually means 'rest' despite those being some high energy characters, so it may be a good ironic name choice if your dog has enough energy to keep up with Sylvester Stallone on those stairs.
5. Buddy 
He's your buddy, right? Bam - you have a name. You'll know from the moment you lay eyes on him that he is going to be your best friend fur-ever, go ahead and commemorate that special moment with the friendliest name for the friendliest boy. 
4. Milo 
This one is a strong name no matter the origin. In Slavic languages it means "beloved", but also stems from the Greek word for 'soldier'. Your dog will probably be both, you're going to love him with all of your heart and he would do anything to stick by your side and protect you with the utmost loyalty. Or maybe you just really like the dog from The Mask. That's also valid.
3. Cooper 
My mind immediately goes to a friendly, happy golden retriever with the name Cooper. Upon researching the name, it means "barrel maker"...so not like a golden retriever at all. If this assumption is false and you find your dog does make barrels, we've got the perfect name right here. Also send videos.
2. Charlie
Another good boy name! Charlie means "free", so if you've found the best boy that loves to run around in an open field - your work here is done. If he ever gets into trouble (he would never, how dare you) you can pull out "Charles" and let him know you mean business.
1. Max
Drumroll, please! We've made it to the #1 most popular boy dog name. There seems to be a theme with naming your best friend words that reflect their once in a lifetime dedication to being your forever loyal companion. Max can derive from "maximum" meaning they're the greatest, but you already know your dog is going to be the greatest.
Top 10 Girl Names 
10. Stella 
What a pretty name! Stella means "star" and you already know your dog is about to be the star of your life. You also kind of want to dramatically yell "Stella!" at the dog park and that's okay too. 
9. Bailey 
Bailey actually means "law enforcer", so if you're going after a badass name, look no further. She may be more of a mall cop, but her name can hold that secret.
8. Sadie
Your dog is going to be royalty in your house, might as well embrace it with a name meaning "princess". With it coming in at number 8 on our list you aren't alone in having your pup calling the shots. 
7. Lola 
L-O-L-A Lola. Whether you want to commemorate your time at the Copacabana, or you want to get deep with the name's meaning of "Lady of Sorrows" this is a fun one. Give your quirky girl a quirky name! 
6. Zoe
Another fun name! Zoe actually means "life", which is so fitting because your dog is going to breathe some new life into your world! She's the life of the party and everyone should know. No one named Zoe is boring! 
5. Lily 
Your love is going to blossom with this flower-themed name! Lily also means "innocence", so when you're wondering who got in the trash don't look her way. If you're a Harry Potter fan this one is a contender as well. R.I.P. Lily and James Potter.
4. Lucy 
Peanuts and Beatles fans might already have this one ready to go. Lucy branches off of the word lux meaning "light" (Lux is a pretty cool name too, just throwing that out there).
3. Daisey 
A second flower name on the list! Let us plant the seed in your head to keep Daisy an option while you're looking for your perfect puppy. Unofficial research says dogs named Daisy give the best puppy dog eyes and look especially cute in little red wagons.
2. Bella 
Bella! Where the hell have you been, loca? You may be a Twilight fan if this is on your radar. I see you, I respect you, #TeamEdward. Bella also means "beautiful" in Italian, which is going to be fitting for your new bella of the ball. 
1. Luna 
It's a fancy way to say "moon"! Maybe you're a Harry Potter fan and the name Lily didn't quite fit the majestic creature you've decided to take in. The most pup-ular dog name for girls is Luna, but we know no matter what name you decide on you'll be over the moon!
Few and Far Between
We know some dogs with very unique names that probably wouldn't even make a Top 1,000 list. Here are some of our favorites…
5. Dolly Pawton
This one came from DOG iD's very own IT Director! While he's here working 9 to 5, Miss Pawton is at home with paws up living the glamorous life. As she should. If you have a hunch your pup will be a diva with a heart of gold, this punny name might be the way to go.
4. Tim
Really any human name for a dog is hilarious. Picture it now: "Bad Tim! Do not pee on the floor!" 
3. Mooch 
Your dog probably is a bit of a moocher. Be honest, when was the last time you had a pet pay for dinner? Thought so. 
2. Notorious D.O.G.
It's a bit wordy, but fun nonetheless. You can even fall back onto the nickname "Biggie", which is even better if you have a tiny pup in mind. 
1. Gary Busey
Yes, really. Mr. Gary Busey is my brother's dog. My dog-nephew, if you will. His name never fails to bring a smile when you introduce him, and I can truly say I have never met another Gary Busey.
Gary Busey and Dolly Pawton.
Hopefully you've found your paw-fect pup name, or we could at least spark your imagination for when it's time to welcome your new four-legged friend to your family! Once you have your new bundle of fur, head on over to DOG iD and grab yourself some stylish, rugged essentials. Our products last fur-ever, just like your bond with your dog!
Collection 2019
Sale 70% Off
Title for image