Dogs Are People Too: Volume 10
Posted by BETHANY MILLION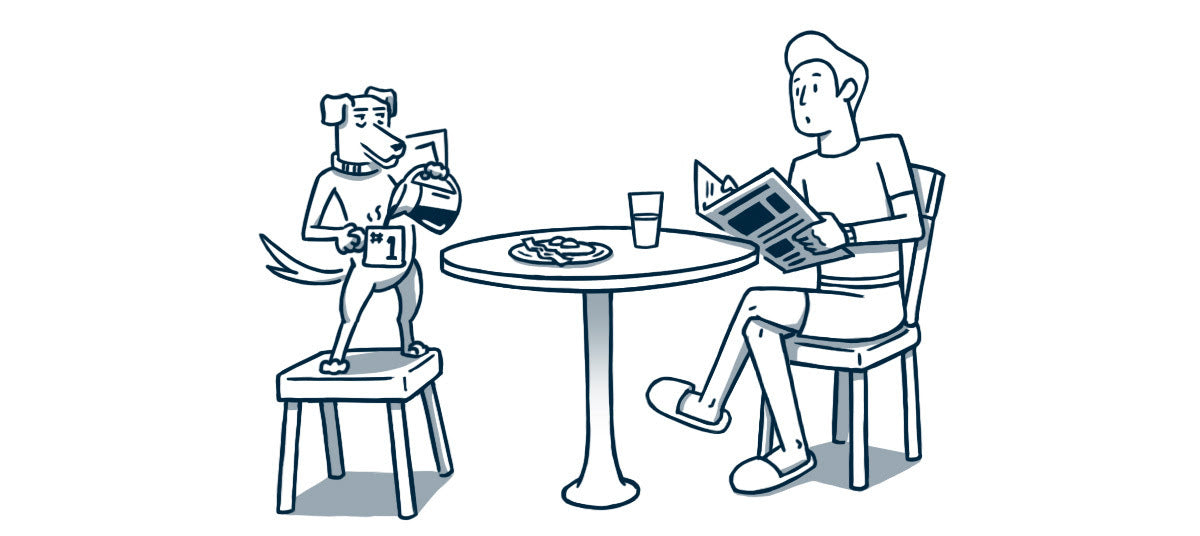 It's a big one, folks. This is the TENTH Issue of Dogs Are People Too. They grow up so fast.

I thought I'd do something a little different today to commemorate newsletter number 10, something to bring a smile to your faces. What we have here is the Top 10 Reasons We Love Our Pups including 10 curated TikToks for your viewing pleasure (narrowing it down to 10 was ruff!)
Top Ten Reasons We Love Our Pups
10. They only have the best intentions.

Yes, even when they bark at the mail carrier for running the same route they've had for the past 10 years while the baby is asleep. What if they chose to go to the dark side since last week? You'll have your hypervigilant dog by your side and a safe child in the crib.

Check out this well-meaning pup on TikTok.

9. They don't talk back.

At least not in a traditional sense. You know how in movies there's always a teenager that screams "I hate you!" and slams the door? Not in this doghouse.

Catch some sass from this handsome boy.

8. They are always there to listen.

They're not really given a choice, but their cute little ears are always there to listen to your dating horror stories. Sometimes all you need is your quiet, furry therapist.

7. They're always down to play.

Have you ever gotten the adult zoomies? One moment you're on the couch and the next you're convinced you could beat Usain Bolt in a 40 yard dash. Who else is going to match that energy besides your dog? Grab a tennis ball and use your highest pitch voice because party time is all the time.

6. They're the best roommates.

"Ugh my roommate let these dishes in the sink mold" - someone that doesn't have a puppy tenant. Avoid arguments about hot water, the electric bill, and leaving the laundry machine full for 48 hours by simply having a roommate that is not a human.

5. They're still excited to see us.

Even after all this time. Who is looking out the window as soon as your car pulls up? It's probably not your spouse, but your dog is right there. As soon as you unlock that door they're right at the welcome mat...wait, how did they get there so fast?
4. They're cute.

Is it superficial if there is no such thing as an ugly dog? Even when they're ugly, they're cute. That's talent.

Enjoy this TikTok video of the cutest little pup. 🐶

3. They make us laugh.

Maybe your dog has no concept of spatial awareness, or maybe they insist on picking up the leash and walking themselves. You're guaranteed to laugh every day with a dog, and isn't laughter the best medicine?

2. They know when we need them most.

It's something we're told from a young age - dogs can sense your emotions. As I get older, the most I've become aware of this fact. Dogs always seem to know when you're sad or sick, and they're ready to nurse you back to health with their cuddles. Their emotional intelligence is nothing short of amazing.

Try not to cry while watching this TikTok video.

1. They stay by our side.

People may come and go, but our dogs stay right here. You always have someone by your side through the ups and downs of life. Our dogs work overtime to show their loyalty to us in different ways every day, whether they're acting as the cuddly nurse or furry therapist. They'll always be on your team.


That's a wrap on our 10th issue of Dogs Are People Too! If you've been here since the first, thanks for sticking around. If you're new here, welcome and thank you for reading. Don't forget, you can share Dogs Are People Too with friends to ensure they get a little puppy love to their inbox!
Collection 2019
Sale 70% Off
Title for image